About Tjeerd Korver
Medical Biology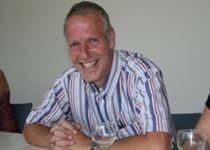 Tjeerd Korver was born in Naarden, The Netherlands, on October 5th 1961. After finishing secondary school in 1980 he was admitted to the Sweelinck Amsterdam School of Music to become a professional pianist. When realizing he did not want to become a professional musician, he started studying Medical Biology in 1981 at the University of Amsterdam. He graduated in 1987, after taking specific training in biochemistry, medical microbiology and teaching.
Institute of Rheumatology,
Between 1987 and 1991 he was a research fellow at the Amsterdam Institute of Rheumatology, developing an in vitro model for osteoarthritis. This period was completed with a PhD thesis entitled "Loading of anatomically intact articular cartilage in vitro".
Organon
In 1991 Tjeerd Korver joined Organon as a Scientific Editor in the Regulatory Affairs Unit, predominantly involved in preclinical and clinical evaluations of steroid hormones. In 1995 he was transferred to the Medical Research & Development Unit to become a Medical Research Project Manager. In this function he was responsible for the global clinical development of several contraceptive products, including design, planning, budgetting, execution and reporting of clinical research plans and clinical trials in support of regulatory submissions, as well as for the preparation of clinical documentation and evaluations for marketing approval and/or advice meetings with health authorities. Besides scientific and clinical expertise, this position involved leading of multidisciplinairy drug development and clinical trial teams, multiple interactions with regulatory bodies such as the US FDA and EMA, and communicating results in publications (List of Publications), training meetings and international congresses.
Head Clinical Research Gynecology
As of 2005 he has been Head Clinical Research Gynecology of Organon (which today is part of Merck Inc.), reporting to the Senior VP Clinical Development. In this function he has been responsible for all clinical programs in contraception. Over the years, three to ten professionals of MD and/or PhD level have been reporting to him, providing him with a sound background in line management of (highly educated) staff. In view of the central position of clinical research in drug development and consequent intensive interactions with many areas of research, development, finance and marketing, Tjeerd Korver has developed a broad overview of the processes involved. As a scientifc expert he has built an extensive network of international experts.
contraceptive products
Tjeerd Korver has contributed to the establishment of a wide range contraceptive products, including Zoely® (nomegestrol acetate/17beta-estradiol oral contraceptive), NuvaRing® (etonogestrel/ethinylestradiol vaginal ring), Implanon® (etonogestrel implant), Cerazette® (desogestrel-only pill) and Multiload® IUD.
Private
Tjeerd Korver lives in Oss, is married and has 3 children. In his spare time he is a passionate pianist, specialized in romantic composers like Chopin, Liszt, Brahms and Rachmaninov. Until recently he has been active as a coach of youth soccer teams.